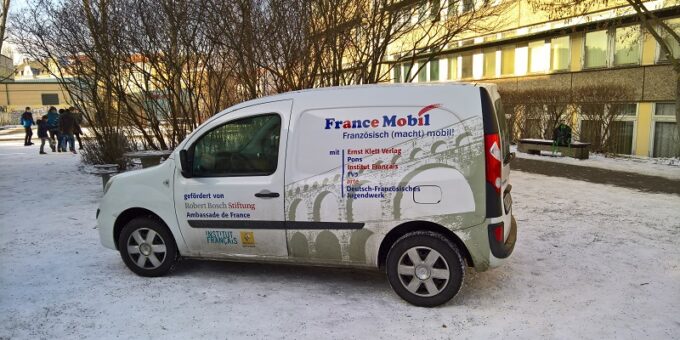 Gestern fand nun unser erster Sprachentag an unserem Gymnasium statt.
Dazu eingeladen waren das FranceMobil und die LVZ (siehe Artikel) rechts.
Unser herzlicher Dank gebührt …
Marie Chiotti, die mit ihrem FranceMobil anreiste, um unseren Schülern die französische Sprache und Kultur näher zu bringen und von Frau Gaudin, unserer Französisch-/Deutsch- und DaZ-Lehrerin, unterstützt wurde;
Frau Helbig, die als externe Unterstützung den Salsa Kurs in der Aula leitete;
Frau Scholz, die für den englischen Cream Tea 90!! Scones (englische Milchbrötchen) gebacken hat;
Frau Lindner, die uns als abgeordnete (!) Lehrerin tatkräftig unterstützte und an der Russischstation mit den Kindern Blinis gebacken hat;
Frau Eichhorst, die sich mit den Schülern den französischen Comics widmete;
Frau Pohlhaus, die als Spanischlehrerin den Kindern die Kartoffel schmackhaft machte;
und natürlich unseren 7.-Klässlern, die sich liebevoll um die Schüler der 5. Klassen kümmerten.
Alles in allem war es ein abwechslungsreicher und schöner Tag.
Ein Bericht aus Schülersicht folgt vielleicht noch.
Liebe Schüler der 7. Klassen, im Unterricht wurden euch die kompletten Ergebnisse der Online Umfrage der 7. Klassen vorgestellt. Hier findet ihr einen kurzen Auszug daraus mit den Ergebnissen (ohne die freien Antworten).
Vielen Dank für euer Feedback.
Und nun ein Bericht von Romy Schubert (7-1):
Our language festival
On Thursdays, every student normally has to sit behind his or her desk in a classroom and has to listen to what the teacher is talking about. Actually, we have the same rules at our school but the 19th January 2017 was a special day.
While the 6th graders had to learn, our 5th and 7th graders took part in our language festival. Throughout the day, we completed five different stations in four different languages to get an overview of the culture which is typical for the countries, Spain, France, Russia and the UK.
The festival started at 8.15 am in the assembly hall with a short speech by Mrs. Fischer. After that we were divided into five groups and every 7th grader got a 5th grader who he or she had to take care of.
The first station of our group was the "choice station" or "optional station" where we could go to the pancake race station, the salsa station or the French comic station. My buddy and I went to the French comic station first. We got a comic in which we had to fill in the missing words of the gaps. After that we drew Obelix with the help of a video.
At 9.20 our group changed to the Spanish potato station. First, we watched a short video about the history of the potato. After that we made a quiz and at the end we tasted nachos with different dips.
The big break between the Spanish potato station and the "France Mobil" station was from 10.05 am to 10.25 am.
Our 3rd station, the "France Mobil" station, started with a stop dance and after that we played for example Chinese whispers.
The next station which was called "Cream Tea" with Mrs. Scholz was our 4th station. We made tea with milk and sugar. While waiting for the tea to cool down, we watched a video about the tea traditions in Britain. At the end, we drank our tea, of course, ate scones with jam and did a quiz.
After the big lunch break my group went to room 109, to the Russian station. First, we learnt some new Russian words and then everyone could fill in the gaps of a worksheet, could make "blinis" which is the Russian name for pancakes or did a puzzle.
All in all it was a really cool, fantastic and interesting day with lots of new impressions of the different cultures.
Bericht Nummer 2 von Ngoc Nguyen (7-1):
Our language festival
On the 19th of January 2017, there was our language festival.
At 8 am all the students of Year 5 and Year 7 met in the assembly hall. Every student of Year 5 had one buddy of Year 7. The students of Year 7 and their buddy, the 5th grader, were in one group. Every group had a leader or boss. I was in group two and there Nina was the boss.
The first station we had to do was the "France Mobil" station. There was a woman from France, called Marie Chiotti. She was friendly and we played games to know each other better. We also watched a short video about the region in France where she comes from. At the end she suddenly spoke German and we were all surprised because in the beginning she said that she can't speak German.
Mrs Scholz was at the second station, the cream tea station. There we watched a video about how to make cream tea and about the different types of tea. We made our own cream tea with "Earl Grey", a special type of tea, sugar, milk and of course hot water. We also ate the famous rolls or buns which are called scones. They were really delicious with the jam and the whipped cream on the scone.
After this station, we had a big break in the school yard. We talked to the other students and asked them which stations they'd already had.
After 20 minutes, we went to the third station. The third station was the Russian pancake station. There we made pancakes Mrs Lindner, but first we learnt the ingredients we need to make pancakes in Russia. We could eat pancakes with jam or sugar. The jam was from Russia but the sugar from Germany. But anyway, the pancakes were great and yummy!
45 minutes later we went to the optional station or station of choice. We could choose from salsa, pancake race and comics. My buddy chose the comic station with Mrs Eichhorst where we learnt phrases in French, for example "Hello, where are you from?" in French. Then we watched a video about how to draw Asterix (from the comic Asterix and Obelix).
The second station of choice we went to was the pancake race with Mrs Fischer. First, we had to read a text about the tradition of pancake races and find out information to fill in a gap text. After that we watched an interesting video about pancake races and at the end we played a little pancake race game. Everyone got a little sticker and a little candy.
The last station for the day we had to do was with Mrs Pohlhaus. At her station, we watched a funny video about the potato. After that we got a quiz and we had to tick the right answers (it was really easy). At the end, everybody got three nachos to try three different dips. There was a red one (sweet and a little bit spicy), a green one (avocado) and a yellow one (cheese). I liked the red one better than the yellow and the last green one. I think I ate too much of the green one, that's why it finally smelled like grass to me. Then the whole group cleaned the room and we could go home.
I really liked the day and I enjoyed it. I think we could do it again next year.
Autor: M. Fischer, Romy Schubert & Ngoc Nguyen (7-1)